This album on 12" vinyl
Skip this message and jump to the digital release
---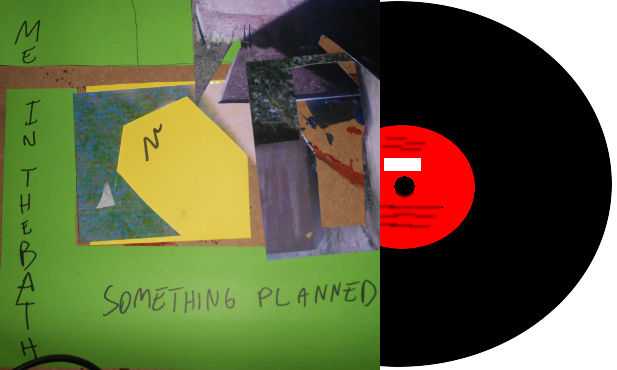 This
Me In The Bath
album, entitled
"Something Planned"
, is a growing album, whith one new track added monthly, generally, for a download publishing here on this page for
Netlabel Day 2019
on July 14th.
In addition to the digital release,
Crem Road records
is planning to issue the album on 12" full-length vinyl, with preorders starting a little time before the download comes available.
How does the preorder work?
Once the preorder is launched, you'll be able to place one and pay for your copy. The funding process will run for a few weeks. We'll need that a
minimal number of copies
got preordered to allow the vinyl pressing to take place. We work with a third-party service to manage orders, pressing and shipping. If the funding goal is not met,
you will get a full refund
for your preorder's money.
What do the customers get?
It will be a
limited edition
for which we still have to decide how many copies will be made (probably 100). The album comes on 140 grams 12", 33 RPM black vinyl, with a glossy thin carboard jacked illustrated with the cover art and a rear cover giving informations about the band, the release and the label.
Vinyl customers will get a redeem code
to download an exclusive pack of digital contents, including the whole album in FLAC, Ogg and MP3 formats, exclusive pictures, videos, and an exclusive digital booklet, all of them related to the album itself.
Need an update?
If you are interested in preorders, you can
receive an email update
when the preorder opens. Just write to
contact@cremroad.com
and we'll inform you of the date of availability of preorders.
This is very important for us
that people subscribe for an update since it will allow our label to determine how many copies will be aimed to be pressed.
You can help today!
Even if we press only 100 copies, it's still a very ambitious funding target (77 copies will be needed to be preordered to launch the pressing) and
we can rely only on word-of-mouth
to reach potential supporters that could have liked the album (which is streamable
below
) and may subscribe to the preorder opening update and finally preorder the album.
Your help is greatly appreciated if you are kind enough
to share and pass around the link to this page
just indicated there and allow more people to discover the album!
---